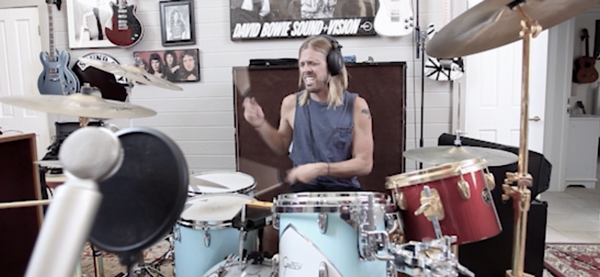 When he is not drumming for the Foo Fighters or working alongside members of Queen, Red Hot Chili Peppers or Coheed and Cambria, Taylor Hawkins can be found working in the comfort of his well-appointed Los Angeles-based home studio, "Made in the Seventies". In his home studio which is located in a guest house on his property, Hawkins prefers to retain the 'home vibe' while recording rather than having recording consoles, equipment and cables dominating the scenery. To that end, he integrated a portable rack case on the premises, loaded with BAE Audio preamps and compressors. The video below is the first in a several part series documenting Hawkins' home studio endeavors with BAE Audio.
While his drumming prowess is self-evident in his stellar work with Foo Fighters, Alanis Morissette and Coheed and Cambria, Hawkins is equally accomplished as a vocalist, guitarist and bassist. Working alongside engineer John (Lou) Lousteau, Hawkins will typically start a solo multi-track recording on drums or electric guitar, and then begin layering the tracks on top of that until he finally delivers the vocals.
"Taylor's set up is super flexible for his needs and packs a punch with just 16 channels," commented Lousteau. "He's using 1073s for vocals and guitars, 1084s on bass and running several channels of our 312 mic preamps and 10 DCF before hitting a summing mixer. It really is the ultimate plug and play set up for remote recording."
"With not that much gear, you can make some really good sounds," says Hawkins. "I don't want to use plug-ins or anything like that, I just want to use Mark's gear and get the sound of the room as true as we can."
To record the drums, a 'back to basics' approach was used with a pair Earthworks condenser mics running through BAE Audio 1084 preamps, a Lauten large condenser mic on the kick drum, a second Lauten large condenser mic positioned in the same position as the kick drum but just higher, and a mic on the snare. This technique captured the space of the room but also the dynamics of Hawkins playing. Hawkins' vintage Rickenbacker bass was sent directly into the BAE Audio 312, with no compression or pad. The result was a high powered, supernatural bass sound right off of the 312.
Meantime, a range of Hawkins' guitars were run through the BAE 1073, using a SM 57 on the guitar cabinet and a room located several feet away with plenty of gain. Vocals were captured with a Lauten Horizon mic, which is modeled on the U 47. This was sent into a BAE Audio 1073, then ran directly into a 10DCF for compression.