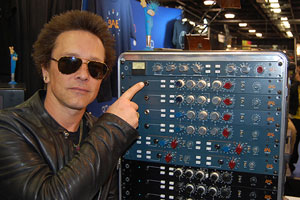 Artist Spotlight: Billy Morrison
Plug and Play: BAE Audio 1073 Preamplifier and 10DC Compressor Take Superstar Guitarist Billy Morrison's Studio Sound to the Next Level
BAE Audio Combo Delivers World Class Performance in the Project Studio for Billy Idol's Guitarist
Superstar guitarist Billy Morrison has a busy schedule. Whether he's gearing up for a Las Vegas residency with Billy Idol, recording and releasing solo albums with collaborators like Ozzy Osbourne, or playing top LA venues with Dave Navarro in their band Royal Machines, Morrison is perpetually evolving as a songwriter and multi-instrumentalist. Since time is always of the essence for Morrison, having the capability to lay down 'no-compromise quality' guitar, bass, and vocal tracks at his home project studio is a must. His go-to signal chain is a 'modern vintage' combination of the BAE Audio 1073 preamplifier and 10DC compressor, both of which stand at the ready to capture his sounds with the renowned analog warmth of old-world vintage consoles.
BAE Gear: Billy Morrison proudly uses the BAE 10DC & 1073.
Read More
BAE are manufactures of high end microphone preamp/equalizers faithful to vintage designs of the seventies and before. With a penchant for high quality transformers like Carnhill (St lves) and Jensen, everything is as close to the vintage philosophy as possible. Not only that but we insist everything is hand-wired/soldered using discreet electronics and not economized on a circuit board.