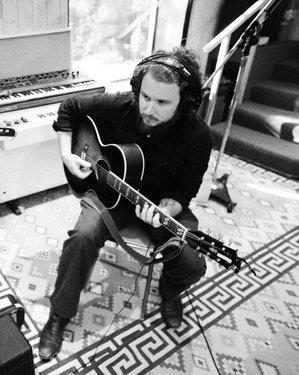 Artist Spotlight: Jim James
Jim James, singer-songwriter-guitarist for Grammy™-nominated My Morning Jacket commented, "My BAE 1073's ring loud and true- crystal clear as the ocean blue! Makes anything sing- from vocals, overheads, and even banjo strings! As everyone knows- an essential tool to have in ye olde audio toolbox!"
As the vocalist, frontman, producer and lead songwriter for My Morning Jacket, James has been instrumental in defining the sound of the band, from the haunting reverb of The Tennessee Fire to the amalgam of reggae, Americana, and folk that was the Z, which he co-produced with John Leckie. He was given an "Esky" for best songwriter in Esquire's 2006 Esky Music Awards in the April issue.
James typically plays rhythm guitar, acoustic guitar, and occasional lead guitar on My Morning Jacket songs. He played the role of the band leader in the Bob Dylan biopic I'm Not There, singing the song "Going to Acapulco", with Calexico as his backing band, which was featured on the soundtrack of the film. Rolling Stone listed James among their "20 New Guitar Gods" along with fellow My Morning Jacket guitarist Carl Broemel. In 2008, James, along with former My Morning Jacket guitarist and cousin Johnny Quaid, formed Removador Recordings and Solutions record label. The label, as described on its website, functions "on the simple principal of yielding the highest annual percentage of aural joy back into the hearts and minds of investors and shareholders with ease and convenience". He contributed vocals on The Decemberists' 2009 album The Hazards of Love.
BAE Gear: Jim James proudly uses the BAE 1073.
Read More
BAE are manufactures of high end microphone preamp/equalizers faithful to vintage designs of the seventies and before. With a penchant for high quality transformers like Carnhill (St lves) and Jensen, everything is as close to the vintage philosophy as possible. Not only that but we insist everything is hand-wired/soldered using discreet electronics and not economized on a circuit board.