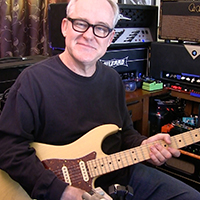 Artist Spotlight: Tim Pierce
To capture singing guitar solos and tight rhythm parts for both his session clients and his subscribers, Tim Pierce relies on BAE Audio's 1073MP preamp with the Steve Stevens blend mod, which delivers a classic sound that meets and exceeds the quality of the vintage preamps that inspired them.
Tim Pierce is no stranger to iconic studio gear. Recording both at home and in many of the top studios around the world at different points in his career, he is well acquainted with the sound of vintage gear. "I've owned every kind of pre at some point, including vintage 1073s, so I'm very familiar with what they sound like," he says. "The BAE Audio 1073MP sounds just like the original vintage units, but with a better top end." Pierce elaborates: "They're somehow even more open in the high frequencies."...
Read More
BAE are manufactures of high end microphone preamp/equalizers faithful to vintage designs of the seventies and before. With a penchant for high quality transformers like Carnhill (St lves) and Jensen, everything is as close to the vintage philosophy as possible. Not only that but we insist everything is hand-wired/soldered using discreet electronics and not economized on a circuit board.