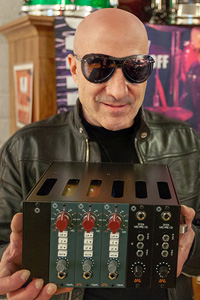 Artist Spotlight: Kenny Aronoff
What do John Mellencamp, Sir Paul McCartney, Ringo Starr, The Rolling Stones, Lady Gaga, Bruno Mars, Sting, Bob Dylan, Bruce Springsteen, Bob Seger, Dave Grohl, Elton John, Johnny Cash, Willie Nelson, Jon Bon Jovi, Steven Tyler, The Smashing Pumpkins, Meatloaf, B.B. King, Rod Stewart, and John Fogerty have in common?
All of these rock 'n' roll superstars have performed with Kenny Aronoff as their drummer, keeping the beat in the studio or on the road.
So how does one become such a sought-after drummer? It all began in 1964, when a young Kenny watched The Beatles perform on the Ed Sullivan show. He asked his Mom to call The Beatles because he wanted to play in their band. Little did he know that fifty years later he would get to perform onstage with Sir Paul McCartney and Ringo Starr, as well as countless other professional musicians, during the CBS Special The Night That Changed America.
Read More
BAE are manufactures of high end microphone preamp/equalizers faithful to vintage designs of the seventies and before. With a penchant for high quality transformers like Carnhill (St lves) and Jensen, everything is as close to the vintage philosophy as possible. Not only that but we insist everything is hand-wired/soldered using discreet electronics and not economized on a circuit board.