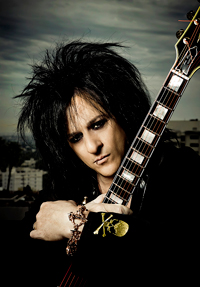 Artist Spotlight: Steve Stevens
Steve Stevens is one of the most original guitarists to emerge from the '80s rock scene, best known for his 30 year partnership with Billy Idol, his work on Michael Jackson's "Dirty Diana", his Grammy Award winning performance on "Top Gun Anthem" and his work with Vince Neil on "Exposed". Stevens catalog of hit songs that he co-wrote & performed alongside Idol include "Rebel Yell", "Eyes Without A Face" and "Flesh for Fantasy".
They sound as fresh and relevant today as the day they were released, as evidenced by being recently covered by artists as varied as Miley Cyrus, Green Day, Queens of the Stone Age, Him, Black Veil Brides, Children of Bodom, Dope, Daughtry, Sum 41, Blink 182, Drowning Pool, Murderdolls, Deathstars and The Donnas.
Read More
BAE are manufactures of high end microphone preamp/equalizers faithful to vintage designs of the seventies and before. With a penchant for high quality transformers like Carnhill (St lves) and Jensen, everything is as close to the vintage philosophy as possible. Not only that but we insist everything is hand-wired/soldered using discreet electronics and not economized on a circuit board.