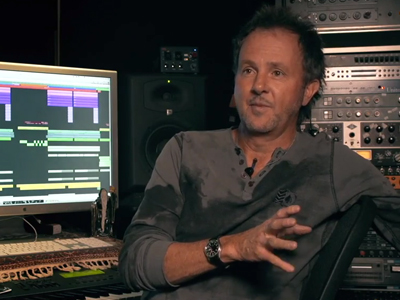 C.J. Vanston is an American film composer, record producer, songwriter, and keyboardist, based in Hollywood, California. He has contributed to numerous albums, including those by Prince, 'NSync, Barbra Streisand, Ringo Starr, Celine Dion, Bob Seger, Richard Marx, Tina Turner, Joe Cocker, Anna Vissi, Yellowcard, Spinal Tap, Harry Shearer, Steve Lukather, Dennis DeYoung, and Toto.
CJ Vanston was initially doing jingles in Chicago where he became well known in that industry segment and rose to become trhe first call guy in the trade. He became so busy doing jingles that at one point he was doing six sessions a day and practically living in the studio.
At the same time, he began to realize that the was not using his talent for what it was meant for, which was making records. He had a burning desire to make records and when his mentor "Rick Marks" told him that his son Richard Marks was making a record, he felt that Richard and CJ Vanston should work together.
So, following his advice, CJ Vanston gave up doing jingles and moved to Los Angeles. Everyone thought he was crazy, giving up the vocation that had brought him success and fortune, but he had made up his mind and knew that he was doing the right thing.
The first song that he did with Richard was 'Right Here Waiting' which was actually just the demo was so good that it ended up being used as the record. Within a week of its release, it was on every radio station and soon reached the top of the charts. After this phenomenal hit single, CJ Vanstion started getting multiple requests for assignments and one offer in particular came from Phil Ramone, who wanted to do a record with him. They got along together so well that he ended up as Phil's recording guy for about five to six years.
CJ Vanston then turned his attention to mixing and arranging music for songs. Instead of showing up with a chart, he would show up with a fully prepared music track of how he perceived the song should sound. He would add the bass and keyboard and everything needed by himself. The awe he received improved his confidence.
Though he was not very technical, CJ Vanston had good ears and could instinctively tell what sounded good. He worked with software and recorded with analog gear to get the perfect sound. He often uses the BAE 10DC compressor to monitor with, and has used this to perfect his sound for many artists including Toto. The BAE 10DC is his favorite piece of equipment, he loves the look, the feel, and the sound clarity that the 10DC provides. He can simply set it and forget it. CJ finds the 10DC very reliable and noted that some of his best compositions were made using it. He could set the 10C up in a specific way for mastered sounding results while the band was being tracked.
Everyone CJ recorded loved the way their music sounded when he used the BAE 10DC. CJ Vanston has used the 10DC for overall recording, the bass, the guitar, the cello, background vocals and practically everything.
"10DC's were just beautiful sounding. Big, fat, round, beautiful…"
C.J. Vanston
BAE Gear: C.J. Vanston's studio includes the BAE 1028, 10DC and the 1073DMP