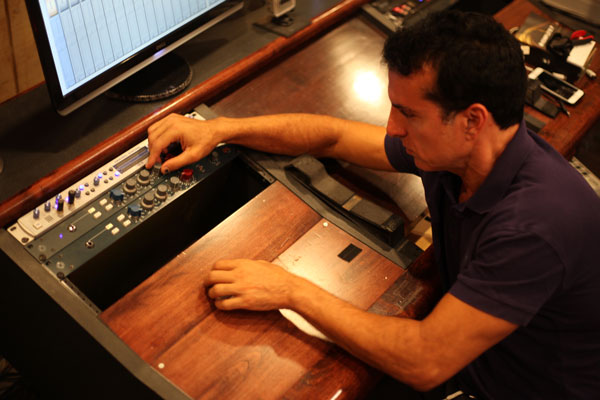 BAE 1073s Serve as the Primary Stereo Inputs at Derek Sherinian's Beachwood Manor Studios
For a premier keyboardist such as Derek Sherinian, whose accomplishments are truly diverse and far reaching, it is hard to highlight any single moment in his past success. There is the five years where he served as a member of Dream Theater, and the countless touring and recording work he has done with the likes of Kiss, Alice Cooper, Billy Idol, Al DiMeola, and many others. Perhaps most exciting for Sherinian, is his work with Black Country Communion — a 'supergroup' comprised of Glen Hughes on bass, Joe Bonamassa on guitar, Jason Bonham on drums and himself on keyboards. Between 2009 and 2013, Black Country Communion recorded three albums and toured internationally to enthusiastic audiences around the world. Recently, as Black Country Communion announced its reunion, Sherinian has been gearing up his Burbank, Calif.—based Beachwood Manor Studios with the inimitable BAE Audio 1073 preamplifier/EQ.
BAE 1073 Delivers Sonic Sauce for Derek Sherinian's 'Wall of Keyboards' as Black Country Communion Reunion is Announced
Perhaps the most distinctive feature in Beachwood Manor Studios is 'The Wall' — Sherinian's massive collection of vintage keyboards and synthesizers. His collection features models including Hammond B3, Hohner Clavinet, SCI Prophet V, Fender Rhodes, Minimoog and many others. "My keyboard set up is pretty elaborate and it has been a dream of mine for a long time to have all these keyboards under one roof at my disposal," he says. "Everything I have here runs through either my BAE 1073 or my BAE 1073 MP. I recently picked up two of the BAE 1073s at the recommendation of my friend Simon Philips — now I run my B3 through the 1073 MP and all my other keyboards through the BAE 1073."
His decision to fortify his keyboard arsenal with two BAE 1073s couldn't have come at a better time. Sherinian's band Black Country Communion announced last April that they will be reuniting following a break-up in 2013. Sherinian is looking forward to going 'all-in' as the band looks to start recording a new album in January at East West Studios in Hollywood: "Time heals all wounds, and I think everyone in the band realized that there was something really special that happened when the four of us got together," he observes. "I think in the end, the music supersedes anything else that goes on. We are all in it to make a killer record and maybe play some shows next year, so I am excited about that."
Sherinian plans on bringing his entire keyboard arsenal to the recording sessions, including his BAE 1073 mic pre. "In my studio, the BAE 1073 is now my main mic pre," he says. "I use it if I have a guitar player coming through, or on any one of my 25 keyboards. It adds a warmth and fatness that was not there before. And if you drive it, it responds — you just get a nice, killer sound." For now, Sherinian is using the BAE 1073 in preproduction, working on various riffs and content that he is planning on presenting to the band this winter, prior to the recording session. "I am collecting ideas; then I will go back, evaluate everything and weed out the nuggets," he says.
After getting the BAE recommendation, Sherinian did several A/B tests against competitors to properly evaluate the BAE 1073 and ensure it passed muster. "The BAE units sounded warmer and tighter. The other units sounded thin by comparison and just didn't work out. I think if you are a studio owner, it is very important to have some quality mic pres," he concludes. "For now, I couldn't be happier with my BAE 1073s. They are of the highest quality and are super-versatile."
BAE Gear: 1073, 1073MP