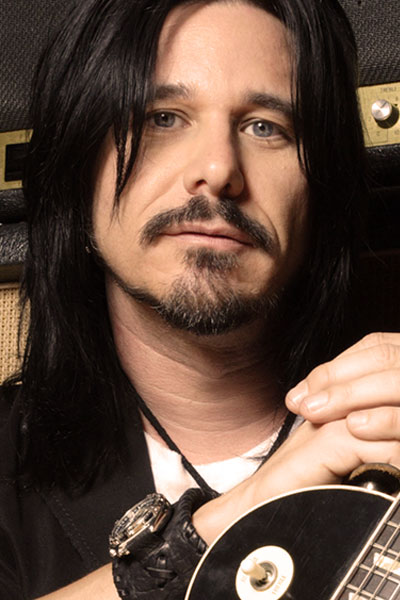 BAE Audio Hot Fuzz Pedal Inspires Producer and former Guns N' Roses Guitarist Gilby Clarke
Guitarist, songwriter, and producer Gilby Clarke has owned a great many pedals during his long career, a career which has included stints as a member of Guns N' Roses and numerous studio sessions. He was also familiar with the reputation for analogue excellence of hand-wired studio hardware manufacturer BAE Audio, whose rack gear is among the key pieces he turns to in his own full-service home studio. When he heard that BAE Audio had released its first guitar pedal, the Hot Fuzz, he was intrigued to explore one of his favorite gear manufacturers' take on the stompbox effect.
The Hot Fuzz arrived at Clarke's studio just as he was in the thick of recording his newest solo record. "I've stepped back from some of my touring obligations this year to focus on finishing the new record," he says. "Since I'm producing as well as playing guitar and writing all the songs, it's a lot of work." His home studio is stocked with a healthy complement of classic guitar amps as well as over 40 guitars, so he already had access to a wealth of guitar sounds. But when he plugged in the Hot Fuzz, he found its sonics both harkening back to an old favorite and delivering something totally new.
What's Old is New
The Hot Fuzz is a dual-stomp pedal featuring both a vintage-style treble booster and a vintage-style fuzz, each with separate bypass switches. "I had an original treble booster some years back which I used to love with a dirty tube amp," he says. "I got rid of it for some reason, but kicking on the Hi Frequency Boost on the Hot Fuzz—it really has that sound. It's not really treble so much as it is high midrange—it just brings that frequency range out in a way that makes the guitar really sing."
Immediately, the tone opened up new creative possibilities for Clarke, who was looking for some additional material to round out his full-length record. "I had a little riff that was the first thing I was trying out on the Hot Fuzz and it suddenly inspired a new riff which inspired a new song!" he says.
BAE Audio CEO Mark Loughman had recommended that Clarke experiment with kicking on both the boost and fuzz sections of the pedal simultaneously for yet another tone option, a chain he had not used in his days as an owner of a vintage treble booster. "As the song came together, I ended up using just the treble boost for the verse, and then the boost and the fuzz together for the chorus," he says. "It really did everything you could ask for from a pedal for me: it inspired me creatively and helped move the song along dynamically."
Full Spectrum Fuzz
Clarke felt that the unique sonic character of the fuzz section of the Hot Fuzz separated it from other dirt boxes he has used over the years. "The tone of the fuzz reminds me a bit of 90s Russian fuzz pedals, but it has way more tonal range than that," he explains. "Those were very two-dimensional pedals, you either had a fuzzy low end or a fuzzy high end. With the Hot Fuzz, the fuzz is spread very evenly throughout the bass, treble, and midrange."
For Clarke, it is the articulate midrange of the Hot Fuzz that makes it so musical. "As a guitar player, I'm always looking for a defined midrange," he says. "That's the part of the spectrum that the guitar is responsible for, and the Hot Fuzz has really nice tonal characteristics in the all-important 1kHz to 3kHz range." Clarke also found the fuzz highly responsive. "Not only does it sound good, but it's got that great singing sustain, where you can hold out a note and it will really last," he says.
Caught by the Fuzz
Clarke sees room for a lot more potential for exploration with the Hot Fuzz in the future. "This is a very new toy for me, and already it has lead to some cool things, so I look forward to messing around with it more," he says. As for the new song it inspired, since named 'Tightwad,' Clarke describes it as among the top few single candidates on the record. "The Hot Fuzz is a huge part of the sound of that song, so I'm going to have to make some room for it on my pedalboard for my upcoming shows," he says. He now recommends it to any intrepid guitar players out there who, like he is, are constantly searching for new tonal options. "It's a really unique sound, so if you're someone who likes to experiment and try new things you'll find that the Hot Fuzz is a pedal that can really inspire something."