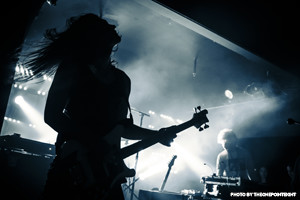 Artist Spotlight: HEALTH
"We've got a crazy number of pedals on our signal at all times making all kinds of wacky sounds, and the 1073 just gives it all that realness"
-John Famiglietti of HEALTH
For Los Angeles-based band HEALTH, finding a unique sound that grabbed listeners' attention came naturally. Beginning with their 2007 self-titled debut, they blended elements of noise, rock, and electronica seamlessly in songs that are at once both infectious and deliciously abrasive. But in the six years between 2009's LP Get Color and their upcoming release Death Magic, the band perceived that the sound of music around them had changed by leaps and bounds. HEALTH has since turned to a new workflow focused on direct guitar recording through BAE Audio 1073 preamplifiers, giving their analog instruments the added punch they need to go toe to toe with HEALTH's bevy of digital sounds...
"We were hearing how music production had really changed where you've got these pop-star songs that are hitting harder than a heavy metal record because of the production," says HEALTH band member John Famiglietti, "and we're saying to ourselves, hey, we make heavy music and there's no reason our stuff shouldn't be hitting harder than teeny bop music."
Read More
BAE are manufactures of high end microphone preamp/equalizers faithful to vintage designs of the seventies and before. With a penchant for high quality transformers like Carnhill (St lves) and Jensen, everything is as close to the vintage philosophy as possible. Not only that but we insist everything is hand-wired/soldered using discreet electronics and not economized on a circuit board.