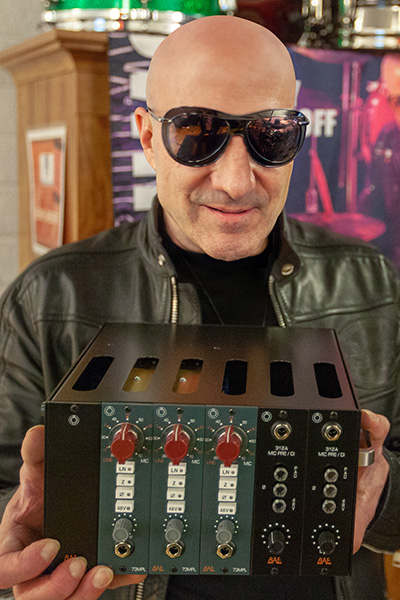 On Stage
Kenny Aronoff is a member of the John Fogerty Band (singer, songwriter, guitarist, and producer of the original Creedence Clearwater Revival band). He also records and tours with Heaven and Earth. Kenny has recorded and toured with Fogerty for 22 years and with the BoDeans for 26 years, when not working with John Fogerty. He is a member of Supersonic Blues Machine, a world-touring super group that features artists like Billy Gibbons, Walter Trout, Robben Ford, Steve Lukather, Warren Haynes and Eric Gales. He recorded their first record in his home studio, Uncommon Studios, and he has been touring with them in Europe and the USA.
Kenny has his own band called "Kenny and Friends" who performs in LA at the famous jazz club, The Baked Potato. Kenny has recently performed as the drummer for all artists at special tribute events like John Lennon's 75th Birthday Concert in NYC, MusiCare's honoring Bob Dylan in LA, the Dr. John tribute in New Orleans, the Celebrating the Songs & Voice of Gregg Allman in Atlanta, and a tribute in Los Angeles honoring the Beatles 50th year anniversary of their performance on the Ed Sullivan Show "The Beatles: The Night That Changed America" where he performed with Paul McCartney, Ringo Starr, Joe Walsh, Dave Grohl, Brad Paisley, Keith Urban, John Mayer, John Legend, Alicia Keys, Stevie Wonder, Pharrell Williams, Jeff Lynn, and Danny Harrison. Recently, Kenny has played shows with Joan Jett, The Goo Goo Dolls, and STYX.
He also performed with two artists at the Grammy Awards with both The Highwaymen (Willie Nelson, Merle Haggard, Kris Kristofferson, and Blake Shelton) and Ringo Starr. He performed at the Kennedy Center Honors for seven consecutive years from 2008–2015 with artists like Lady Gaga, Bruno Mars, Sting, Bruce Springsteen, Don Henley, Steven Tyler, Willie Nelson, Sheryl Crow, Garth Brooks, and many more.
Backstage with Kenny
What do John Mellencamp, Sir Paul McCartney, Ringo Starr, The Rolling Stones, Lady Gaga, Bruno Mars, Sting, Bob Dylan, Bruce Springsteen, Bob Seger, Dave Grohl, Elton John, Johnny Cash, Willie Nelson, Jon Bon Jovi, Steven Tyler, The Smashing Pumpkins, Meatloaf, B.B. King, Rod Stewart, and John Fogerty have in common?
All of these rock 'n' roll superstars have performed with Kenny Aronoff as their drummer, keeping the beat in the studio or on the road.
So how does one become such a sought-after drummer? It all began in 1964, when a young Kenny watched The Beatles perform on the Ed Sullivan show. He asked his Mom to call The Beatles because he wanted to play in their band. Little did he know that fifty years later he would get to perform onstage with Sir Paul McCartney and Ringo Starr, as well as countless other professional musicians, during the CBS Special The Night That Changed America.
Before that lifetime achievement, Kenny began his rock career touring and performing with John Mellencamp for 17 years! When Mellencamp decided to take time off, Kenny was motivated to embark on his own. He fulfilled a lifelong goal–and became a sought-after session drummer, as well as a touring drummer.
Today, Kenny Aronoff spends his time touring, recording in the studio, and teaching people how to embrace adversity and gain confidence in their personal and professional lives. His life lessons, the stories, the music, and the adventure come to the stage with Kenny Aronoff–one of the most in-demand entertainers in the world!
Visit KennyAronoff.com to learn more!