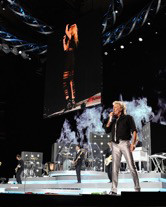 FOH Engineer Lars Brogaard for Rod Stewart: BAE Audio Preamplifiers
During a Three-Week Residency at Caesars Palace, a Concert in Hyde Park and for a Reunion with The Faces, Legendary FOH Engineer Lars Brogaard Turns to BAE Audio for Sonic Depth
With high profile concerts in Las Vegas, Hyde Park and Rio de Janeiro and an album release set for this October, legendary Rod Stewart continues to bring his pitch perfect, A-level performances to both stage and studio. His touring entourage — with longtime right hand man and FOH engineer Lars Brogaard at the controls — recently completed a three-week residency at Caesars Palace, a Faces reunion benefit show, and are now looking forward to a performance in London's Hyde Park before 70,000 fans next week. As Stewart continues to bedazzle audiences with his raspy, emotionally nuanced vocals, Brogaard is relentless in achieving the best possible sound. To accurately capture a natural sound for drums, bass and vocals, he recently turned to BAE Audio.
Brogaard, who has been looking after Rod Stewart's sound for 30 years, began tinkering with gear when he was just 16 years old living in Denmark in the mid-seventies: "I ended up running the sound for several bands because I wasn't good enough to play myself," he recalls. Shortly thereafter, he moved to England and got his first big break as monitor engineer on ABBA's world tour in 1979, and then handling FOH mixing for artists like the Beach Boys, Diana Ross, Lionel Richie, ABC and many others. "I started in this business doing sound, and I am always trying to make the sound better. This is something that I have always cared deeply about," he explains.
At the recommendation of Stewart's bass player Conrad Korsch, Brogaard tried using BAE Audio 312 preamplifiers on the drum kit during Stewart's residency at Caesars Palace last spring. He was astonished at the sound: "The acoustics at The Colosseum are exceptional to begin with," he recalls. "But when we tried the BAE Audio 312s on the drum kit, we were able to hear a massive increase in both depth and tone. We could hear much more detail in the natural sound of the wood coming off of the drums — the difference was truly amazing."
The experiment on the drums made Brogaard curious about what he could achieve by putting a BAE Audio 1073MPF preamplifier on Rod's vocal, and the resulting sound was hand in glove. "It is all about the depth, and the unit was able to capture the depth in Rod's voice with a certain natural sheen that I hadn't heard before." Brogaard wasted no time integrating the BAE unit into Rod's vocal chain, bypassing the preamplifiers in the FOH mixing console. Once all of these changes were made, there was unanimous approval: "Everyone on the tech team thought there was a noticeable difference and that it sounded exceptional," he says.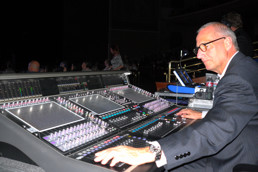 A Vintage Preamp for a Singer's Singer
Brogaard is very particular about equipment choice, especially when it comes to Stewart's vocal: "Rod is pitch perfect, a singer's singer," he says. "Even though his public image often entails girls, fast cars and soccer, he is really very musical and knows exactly what he wants to hear. It is especially moving to hear the raspiness of his voice on the ballads during one of his live shows — it is a true gift, especially considering he's 70!"
Currently, Brogaard is using (8) channels of BAE Audio 312s on the drums, a 1073DMP on the bass and a 1073MPF on Stewart's vocals. Brogaard keeps the preamps nearby the monitoring console to minimize copper cable runs, thus avoiding potential signal degradation. The new preamplifier rig — which consists of an (8) space 3U 500 series rack unit, a 1U 1073MPF and a 1073DMP — is being used for all of Stewarts performances, including the reunion with Faces, the concert in London's Hyde Park next week, and a gig at Rock In Rio scheduled for the end of this month.
Brogaard, meanwhile, is always refining Rod Stewart's sound and hasn't looked back: "I never got into this business to make money — I got into it because I wanted to be a sound engineer." After the new album is released in October, Stewart, who is touring with a 13-piece orchestra, will once again have a residency at Caesars Palace in the spring.