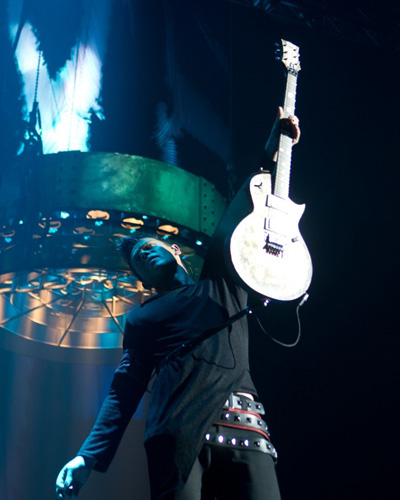 Rammstein is a Neue Deutsche Härte/industrial metal band formed in Germany in 1993. Initiated by former 'Orgasm Death Gimmick' guitarist Richard Kruspe along with guitarist Paul Landers, keyboardist Christian Flake Lorenz (the two both ex-Feeling B), drummer Christoph Schneider, bassist Oliver Riedel and ex-champion swimmer Till Lindemann at vocals.
The majority of their songs are in German, but they have also performed songs entirely or partially in other languages including English, Spanish, French and Russian. As of 2014, they have sold over 10 million records worldwide.[4] Rammstein's award-winning live shows are renowned for their pyrotechnic elements and both on- and off-stage theatrics. Rammstein's entire catalogue is published by Universal Music Group.
Their first song, "Rammstein", was about a crash incident during a airshow. They keep the name and were signed by label Motor in Germany. After a couple of hit singles in their home country, they released a first album, "Herzeleid", in 1995. The next year, David Lynch licensed two "Rammstein" songs for the soundtrack of his movie Lost Highway (1997). Before that, the band never released a track in America. In 1997, the second album "Sehnsucht" went on to surprisingly sell over half a million copies in the United States. The hit "Du Hast" played in German on the radio even if "Rammstein" recorded an English version of the song. They released live video and album "Live Aus Berlin" in 1999 and hit back in 2001 with the long-awaited album "Mutter".
"Life is better with the BAE 1032 - in the studio and on stage."
-Richard Kruspe
BAE Gear: Rammstein use the BAE 1032.