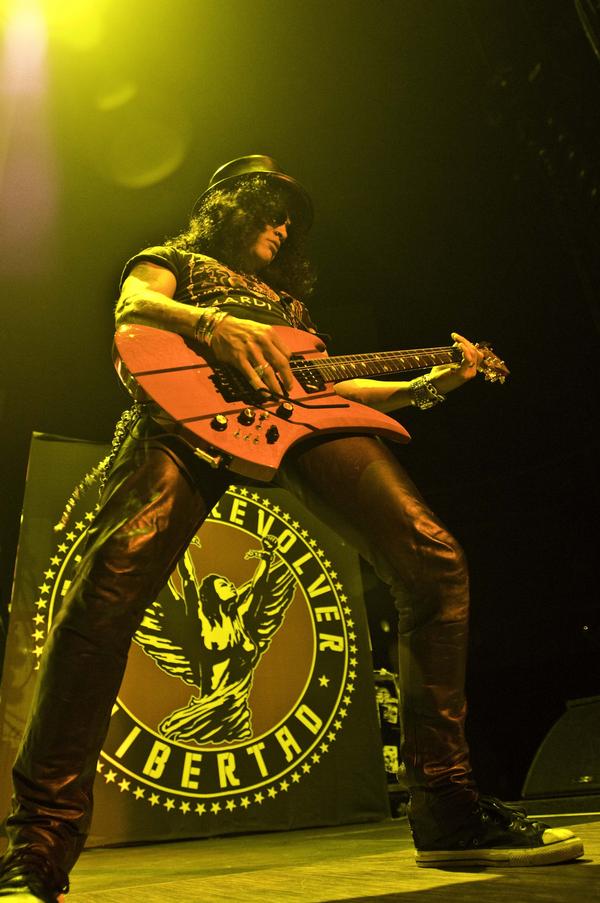 "It's been an interesting road from the mid 90s up until now," says Slash. "I never stopped to think, 'What am I gonna to do in the long term?' Or ruminated on my solo career, where it was heading. I've just been jamming around, going wherever the muse has taken me. And this is the first time where I feel like I'm in the saddle and riding my own destiny with some genuine focus."
For fans who've tracked the broken glass and ruby slipper journey of Guns N' Roses lead guitarist since the release of Appetite for Destruction two days before his 22nd birthday 25 years ago this July, one can't help but be radioactive with enthusiasm. Apocalyptic Love is not just a new record by the storied musician with the black top hat and magical gift for riff, for Slash and his three co-conspirators; it is, indeed, destiny. And everyone involved is poised for the ride.
"The entire album was recorded like a live performance record where the band was all set up together in the big room," observes producer Eric Valentine, whose Barefoot Recording Studios in Hollywood provided the fertile sonic soil for Love to blossom. "Slash played his solos live as the drums were going down. The vocals were overdubbed because Myles Kennedy was playing rhythm guitar live. The whole thing is Todd Kerns' bass, Brent Fitz' drums, and two main guitars. Slash played the solos while the band was jamming so we didn't have to go back and overdub solos either, which he really dug."
"It was important to capture the essence in that big room because as long as I've been doing studio recordings, I've always wanted to keep my guitar tracks from the actual live playing with the band," adds Slash. "And I've kind of re-done them because I never enjoyed playing with headphones on. So Eric built this small room within the main room just for me, which he called the Slash Box, where I could play my parts and solos and still see the band, which worked great."
The liberated feel of Apocalyptic Love is evident throughout the LP's 13 songs, as is the genuine chemistry between Slash and lead singer, Myles Kennedy. The evolution of their creative relationship went full throttle since the two first joined forces on Slash's 2010 debut solo release where the Alter Bridge front man lent his pipes to the cavalcade of venerable guest vocalists which included Iggy Pop, Ian Astbury and Ozzy Osbourne.
The Slash/Kennedy collaboration started from intuition. "I contacted him out of the blue, sent him one of the songs I was working on which turned out later to be 'Starlight'. After Myles contributed his ideas and sent it back to Slash, creative forces congealed. "I went, 'Wow, now that'sreally good," recalls Slash. "I played it for Eric so we flew Myles out to track it and this unassuming mild mannered guy shows up, similar in demeanor to me, sort of quiet, not really explosive in personality. He then nailed "Back from Cali" it was like, 'You ready to go on tour with us?' I was so happy when he accepted the offer." For the Boston-born lead singer of the Florida-based hard rock quartet, Alter Bridge, the gig was an opportunity to expand his personal portfoliowhile exploring some musical synergy with an artist he'd long admired.
The modern master of the Gibson needed a rhythm section to flesh out his frenetic and fanciful chords. After auditioning a lot of drummers, he settled on Brent Fitz. "He was perfect," Slash enthuses. "And Brent introduced me to Todd Kerns who was not only an awesome bass player but hesings like a motherfucker. It was really magical – a throw together band that was just right."
Myles Kennedy and Slash quickly discovered they possessed profound creative chemistry that would spawn a wellspring of brilliant song ideas. "I'd jot down chords and concepts and play them for Myles," says Slash. "He would automatically adhere to whatever the track was and add these great melodies and lyrics. We started putting these basic arrangements together and the songs appeared."
The communion of Slash and Myles does ring that destiny bell a bit. With songs like the debut single, "You're a Lie," "Standing in the Sun," "No More Heroes," "Bad Rain," and the riveting ballad, "Not for Me," voice, lyric and axe form a holy performance trinity of extraordinary passion, power and authenticity. "Not For Me' might be my favorite track on the record, a labor of love and retrospection," confesses the vocal acrobat. "The lyrics stem from conversations I had with Slash regarding some of his bad behavior from way back, combined with things that I lived through. I went through a pretty dark period about 12 years ago, experimenting with things I probably should have avoided that didn't really work for me. That song is about waking up and having this epiphany that things needed to change and it was time to take a different route in life. I think that's something a lot of people, not just artists or rock stars, go through under different circumstances. It could be anything that's not working, a mindset, habit, pattern or relationship."
The dynamic balance between front men and their six-string reflections is notoriously precarious. Flammable egos can torch even the most stunning synergy into a smoldering ash heap.The rock n' roll road less traveled is littered with the scattered carcasses of damaged duos. But Slash and Myles have fused dynamic forces like two elements creating a natural compound of unique rock energy. Their genuine sense of mutual admiration and respect transcends profile and personality. "What I love so much about Slash's playing is the immense emotion he devotes to his craft," says Myles. "There is a certain ache to the way he bends a note, the vibrato. He plays so brilliantly on this record, as he has on all the records he's made, but there's a touch more beautiful pain in his technique now. Being a guitar player myself, I'm just in awe of his method and style."
Few will argue that Slash has evolved with grassroots relevance and reverent pace over the past decade where he now rightfully belongs in the pantheon of axe mythology, having been selected by a Time Magazine survey as second only to Jimi Hendrix among electric guitarists. Staying focused on your current musical project whilst in the midst of swelling adulation and swirling speculation is no easy feat. But somehow, Slash manages to keep his eye on the apocalyptic prize.
"I know that GN'R's induction into the Hall of Fame and the 25th anniversary of Appetite are on a lot of people's minds," admits Slash. "But when you're making a record, you just commit to keeping those distractions out of the process. You have to sort of roll with everything as it happens."
When you're a quarter century into your career, how do you maintain personal clarity and connection to your fans? Slash makes no secret that he enjoys the tools of social networking and new technology. "I don't consider Twitter and Facebook a distraction," he says. "It keeps me in touch with the fans. That's always been something I feel very strongly about given the opportunity through new media and the Internet –which is of course a double edged sword – YouTube all that stuff is a way an artist can stay toe to toe with the people. I never liked to alienate myself but rather made an attempt to let the fans know where I was playing and invite them along to rock out, sort of makes me feel like I was part of a big gang –we're all doing this together."
Much to the delight of old and new fans, Slash's resume builds along with his worldwide fan base. Since making history and amassing global sales in excess of 100 million units with Guns N' Roses, returned with Slash's Snakepit in 1994, followed by Velvet Revolver's two hit LPs, 2005'sContraband (for which the single, "Slither" won a Grammy for Best Hard Rock performance) and 2007's Libertad. Finally, Slash reemerged with his groundbreaking, guest-star studded 2010 solo debut. In 2011, Slash was honored by the Hollywood Chamber of Commerce who named him as an official selection to receive a star in 2012 on Hollywood's iconic Walk of Fame. After making numerous session appearances and lending his laid-back, six-string genius to an eclectic mix of artists which include Michael Jackson, Ray Charles, Stevie Wonder, filmmakers Quentin Tarantino and Darren Aronovsky; not to mention Guitar Hero III: The Legend of Rock and co-authoring a bestselling memoir–the question begs: What's next for the London-born, L.A. schooled kid who discovered his musical soul when his father played him the Beatles, Stones and Yardbirds?
"Touring Apocalyptic Love and having a great time," Slash says humbly. "As long as I can plug my Les Paul into a Marshall amp, I'll just keep doing what I'm doing."
Not a bad destiny at all.
–Lonn M. Friend author of Life on Planet Rock (2006) and Sweet Demotion: How an Almost Famous Rock Journalist Lost Everything and Found Himself (2011).
April 2012


AWARDS
1986 – The Slash AFD recording guitar is built (May)
1991 – Slash on the cover of Rolling Stone issue #596 (Jan)
2004 – "Sweet Child o' Mine" voted No. 1 – Total Guitar "the 100 Greatest Riffs"
2004 – "Out ta Get Me" voted No. 51 – Total Guitar "the 100 Greatest Riffs"
2004 – "Welcome to the Jungle" voted No. 21 – Total Guitar "the 100 Greatest Riffs"
2004 – "Paradise City" voted No. 19 – Total Guitar's "the 100 Greatest Riffs"
2005 – Best Guitarist – Esquire
2005 – "Slither" – Grammy Award for Best Hard Rock Performance
2006 – "Paradise City" voted No. 3 – Total Guitar's "The 100 Hottest Guitar Solos"
2006 – "Sweet Child O' Mine" voted No. 30 – Total Guitar's "The 100 Hottest Guitar Solos"
2006 – "November Rain" voted No. 82 – Total Guitar's "The 100 Hottest Guitar Solos"
2007 – Riff Lord –Metal Hammer's 4th annual Golden Gods Awards
2007 – Star – Rock Walk of Fame
2008 – "November Rain" ranked No. 6 – Guitar World's "The 100 Greatest Guitar Solos"
2008 – "Sweet Child o' Mine" ranked No. 37 – Guitar World's "The 100 Greatest Guitar Solos"
2008 – Ranked 21 – Gigwise's List "The 50 Greatest Guitarists Ever"
2009 – Runner Up – Time Magazine "The 10 Best Electric Guitar Players"
2010 – "Slither" voted as runner-up – Total Guitar's "The 50 Greatest Riffs of the Decade"
2010 – "By the Sword" voted as No. 22 – Total Guitar's "The 50 Greatest Riffs of the Decade"
2010 – Honoree and plaque declaring August 26 as "Slash Day" – Sunset Strip Music Festival, award presented by West
Hollywood Mayor, John Heilman
2011 – No. 65 – Rolling Stone "The 100 Greatest Guitarists of All Time"