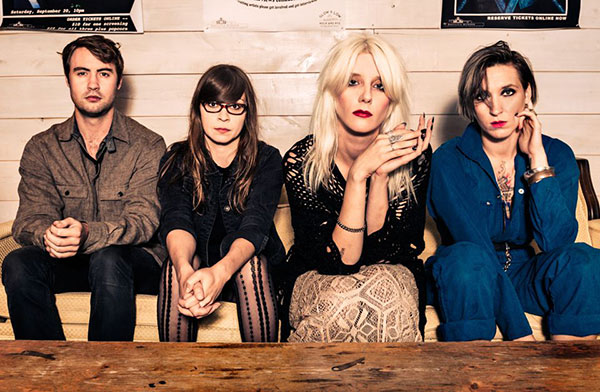 White Lung Looks to BAE Audio's Vintage Preamp Designs to Achieve a Modern Sound on Paradise
BAE Audio's 1073MP and 1073DMP is used on Everything from Vocals to Bass on Hotly Anticipated Record by the Indie-Punk Darlings, Helping Achieve an 'Urgent' and 'Balanced' Sound
When high-energy indie-punk rockers White Lung got together with producer Lars Stalfors to begin work on their new record 'Paradise,' they made it clear that they were after a sound that was more than a mere simulacrum of the punk rock of yesteryear. "They were very clear that they wanted something new and modern," Stalfors says. "They didn't want something consciously vintage sounding, they wanted a big sound that took advantage of all the technical resources they had available." To achieve the sound of the today, Stalfors turned to a modern take on a classic, the BAE Audio 1073MP and 1073DMP preamplifiers.
Foundational Sound
Most of the tracking for Paradise was done at Studio B of Palmquist Studios in Los Angeles, which Stalfors rents as his home base. There, his 1073MP found its way onto every bass, guitar, and vocal track White Lung laid down. The 1073DMP was an all-star on bass, allowing Stalfors to capture a musical direct signal courtesy of its Jensen DI transformer, while using a thru output to send signal to an amp, which he in turn miced through his 1073MP. "Everything except multitracked drums went through the 1073, and that's only because I didn't have enough channels." Stalfors was clear about how a vintage design fits into a modern studio signal path. "This is a design that simply hasn't been improved upon. It always sounds good, especially when you start layering tracks."
Sonic Glue
One of the trademark sounds of Paradise is the urgent, yet tight and balanced, overdriven guitars of Kenneth Williams. "That's the guitar going into the DI of the 1073DMP thru to an amp. Then I've got a dynamic mic and a ribbon mic on the amp going through the 1073MP," Stalfors says. The 1073MP also shone on singer Mish Way's in-your-face vocals, which sit comfortably atop White Lung's wall of drums and guitars. The classic tonal characteristics of the BAE1073's Carnhill-St. Ives transformers helped Stalfors maintain balance in the hotly contest midrange frequencies. "The BAE 1073 really pulls together the midrange on things like guitars and vocals, which just makes my life easier in mixing, especially on a record like this that can get pretty aggressive in the upper mids."
Forward Motion
Stalfors prioritizes keeping the flow of his sessions going and tries to spend minimal time on gear decisions: that's why the BAE Audio 1073 fits perfectly into his workflow. "There's nothing more than a time kill or a vibe kill than doing a mic pre shootout," Stalfors says. "That's why I use the BAE 1073 on everything, I know it sounds great and it's going to work in the mix." Stalfors also appreciates the reliability and predictability of BAE Audio gear, which is handwired in California. "I don't particularly care for vintage gear because of the temperamental aspect of it. My worst nightmare is when I'm at a studio and they're like 'you should try all the mic pres, they all sound a little different'. I just want the best sounding one, and the BAE Audio preamps are exactly that," he says.
Classic Sound To Go
While the 1073MP is Stalfors' studio workhorse, the 1073DMP has become his first choice no matter where he is recording, finding its way onto each recording he touches. "What I love about the 1073DMP is that it's so versatile and I can bring it with me anywhere." In addition to its great sound, Stalfors cites useful features such as its included 'Bootsy Collins mod', which adds a Jensen DI transformer, two thru outputs, and a built-in power supply. "I can throw it in my backpack, fly to New York, and know I'll have that great result with me. Whatever system I put it in front of, I know that I'm going to get what I'm looking for." Recently, it has been a key part of signal chains for the next record by The Cold War Kids, as well as a handful of hip-hop projects. "Anything that's coming out with me will have the 1073DMP on it. It is my mic pre for everything."