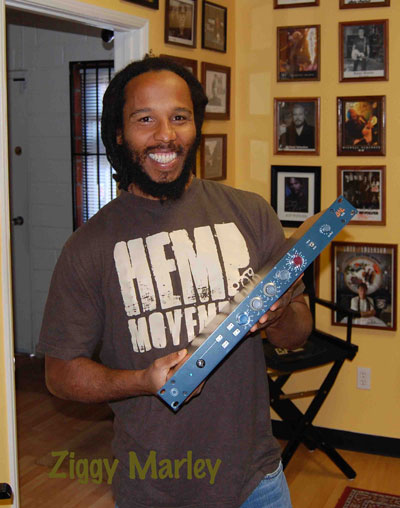 In 1979, Ziggy Marley and his siblings Cedella, Stephen, and Sharon made their recording debut with their father, "Children Playing in the Streets". The Melody Makers, as the group came to be known, played occasionally for several years, including at their father's funeral in 1981. Their debut LP was Play the Game Right, which was a very pop-oriented album, earning Ziggy some derision from critics. The band's label, EMI, wanted to market Ziggy as a solo act, and so the Melody Makers moved to Virgin Records (which was later acquired by EMI), where they recorded Conscious Party (1988, produced by Chris Frantz and Tina Weymouth). The album was critically and popularly successful, as was One Bright Day (1989) and Jahmekya (1991).
As the 1990s continued, the Melody Makers' sales slowly declined, beginning with Joy and Blues (1993) and continuing with Free Like We Want 2 B (1995).
Ziggy became politically active, working with the United Nations and creating a record label called Ghetto Youths Crew. A solo album, Dragonfly was released on 15 April 2003. On 2 July 2006, his second solo album, Love Is My Religion, was released on his independent record company Tuff Gong Worldwide. The album won a Grammy Award for Best Reggae Album, making it Ziggy's 4th Grammy win. On 5 May 2009, his third solo children's album Family Time, was released on his independent record company Tuff Gong Worldwide. Family Time features family and friends; Rita Marley, Cedella Marley, Judah Marley, Paul Simon, Willie Nelson, Jack Johnson, Toots Hibbert, Laurie Berkner, Elizabeth Mitchell, and more. This album won a Grammy Award for Best Musical Album for Children.
Some of his most popular singles include "True To Myself", "Drive", "People Get Ready", and his hit single "Tomorrow People" from his Conscious Party album, which reached #39 on the Billboard Hot 100.
In April 2011, Marley announced his fourth album, entitled Wild and Free would be released on 14 June. The title track, featuring Woody Harrelson, was available for free with the pre-order of Ziggy's first comic book, "Marijuanaman".
In 2013 his song "I Love You Too" won him a Daytime Emmy Award in the 'Outstanding Original Song – Children's and Animation' category, after it was used in the Disney Channel animation 3rd & Bird.
On April 15, 2014, Marley came out with his fifth album, entitled "Fly Rasta", with "Background Vocals from Cedella Marley, Sharon Marley, Rica Newell, Tracy Hazzard, Ian "Beezy" Coleman, Vincent Brantley, Sean Dancy, and Tim Fowlles". Songs like " I Don't Wanna Live on Mars" and "Sunshine", show the emotion that Ziggy tried to portray in this new album.
BAE Gear: Ziggy Marley proudly uses the BAE 1073.