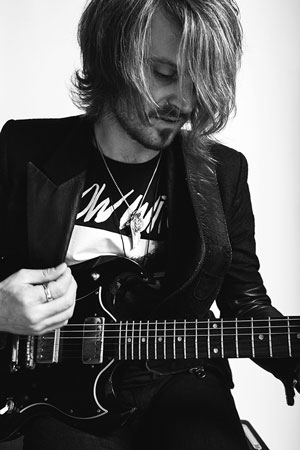 Artist Spotlight: Nick Maybury
BAE Audio Hot Fuzz Stompbox Inspires Touring Guitarist Nick Maybury
Guitarist Nick Maybury has spent a lot of time on the road lately. The Australian-born Los Angeles native, who has worked with artists such as Perry Farrell, Scott Weiland & the Wildabouts, Michelle Branch, and Mike Posner, recently wrapped up an ambitious tour schedule for 2016.
"I've done four international tours with three different artists this year alone, so yeah, I've been busy," he says. When Maybury landed back in Los Angeles for the fall, he received a call from BAE Audio's John Daniel Christiansen. "They wanted to me to come check out their new pedal called the Hot Fuzz, and I thought 'Wow, these guys who make high end studio gear made a fuzz pedal? I definitely want to check that out'." And with that Maybury grabbed a few of his favorite guitars and a trusty vintage amp and drove over to Bedrock LA studios for a test drive.
The Hot Fuzz combines a top boost and fuzz section into a single stompbox, and Maybury knew before he even plugged in his Les Paul that there would be extensive variety of possible tones...
Read More
BAE are manufactures of high end microphone preamp/equalizers faithful to vintage designs of the seventies and before. With a penchant for high quality transformers like Carnhill (St lves) and Jensen, everything is as close to the vintage philosophy as possible. Not only that but we insist everything is hand-wired/soldered using discreet electronics and not economized on a circuit board.