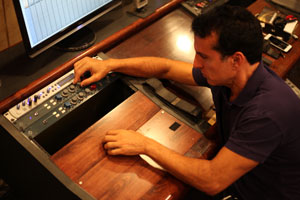 Artist Spotlight: Derek Sherinian
BAE 1073s Serve as the Primary Stereo Inputs at Derek Sherinian's Beachwood Manor Studios
BAE 1073 Delivers Sonic Sauce for Derek Sherinian's 'Wall of Keyboards' as Black Country Communion Reunion is Announced
For a premier keyboardist such as Derek Sherinian, whose accomplishments are truly diverse and far reaching, it is hard to highlight any single moment in his past success. There is the five years where he served as a member of Dream Theater, and the countless touring and recording work he has done with the likes of Kiss, Alice Cooper, Billy Idol, Al DiMeola, and many others. Perhaps most exciting for Sherinian, is his work with Black Country Communion — a 'supergroup' comprised of Glen Hughes on bass, Joe Bonamassa on guitar, Jason Bonham on drums and himself on keyboards. Between 2009 and 2013, Black Country Communion recorded three albums and toured internationally to enthusiastic audiences around the world. Recently, as Black Country Communion announced its reunion, Sherinian has been gearing up his Burbank, Calif.—based Beachwood Manor Studios with the inimitable BAE Audio 1073 preamplifier/EQ.
BAE Gear: 1073, 1073MP
Read More
BAE are manufactures of high end microphone preamp/equalizers faithful to vintage designs of the seventies and before. With a penchant for high quality transformers like Carnhill (St lves) and Jensen, everything is as close to the vintage philosophy as possible. Not only that but we insist everything is hand-wired/soldered using discreet electronics and not economized on a circuit board.