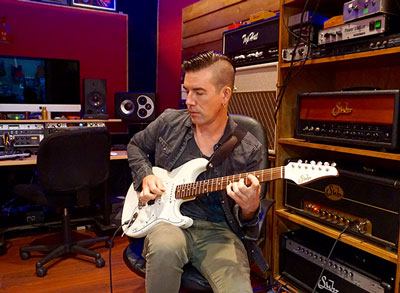 Artist Spotlight: Pete Thorn
Pete Thorn records his guitar in his home studio quite a lot. Part of that's do to his new line of work. While he first developed a reputation as a crack session and touring guitarist working with artists like Courtney Love, Chris Cornell, and Melissa Ethridge, Thorn has found a niche for himself that calls on some other skills as well. "A big part of what I do these days is demos for gear companies," he says. "There are an incredible number of manufacturers out there making all kinds of gear for musicians and engineers and people want to evaluate them and see what each one does."
Thorn's skill on the guitar, combined with his experience as a music sales person and his many years teaching lessons gives him a unique ability to create concise, yet thorough videos demonstrating the new tech to a wide audience over the internet...
Read More
BAE are manufactures of high end microphone preamp/equalizers faithful to vintage designs of the seventies and before. With a penchant for high quality transformers like Carnhill (St lves) and Jensen, everything is as close to the vintage philosophy as possible. Not only that but we insist everything is hand-wired/soldered using discreet electronics and not economized on a circuit board.